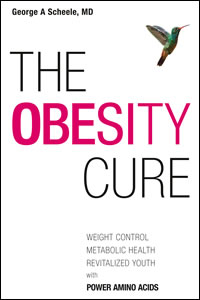 At Last, a breakthrough in nutritional science that identifies the cause and solution to OBESITY, the #1 cause of metabolic disease…Dr. George Scheele's new book on Amazon. http://www.atlasbooks.com/theobesitycure/
STANDARD PROTEIN (17%) EQUALS HIGH PROTEIN (35%)
DIETS IN WEIGHT LOSS
http://mobile.nutraingredients.com/Research/Standard-protein-diets-match-high-protein-diets-for-weight-loss-muscle-strength/?utm_source=newsletter_daily&utm_medium=email&utm_campaign=Newsletter%2BDaily&c=twkcJ%2BK3DzElzBnopetkKw%3D%3D
From Alex Schauss
12 week study out of Australia
Low fat diet, isocaloric diets trade protein for carbohydrate
Protein varied, 17% versus 35%
9% reduction in body weight in both groups
4% reduction in body fat in both groups (trend for greater fat loss at higher protein but no  statistical significance.
Health & Human Services Healthbeat
HHS HealthBeat (January 26, 2012)
HHS Healthbeat Has It Right: Up to scale
Parents: your child may have weight problems you don't see. But it's not just you. Pediatricians may not be telling parents what they need to hear. The national health survey NHANES asked parents if a doctor or health professional had ever told them their child was overweight.
Eliana Perrin is a pediatrician and associate professor of pediatrics at the University of North Carolina at Chapel Hill.
"Most parents of overweight and obese children reported never having been told that their child was overweight." (6 seconds)
Making better health choices is as easy as eating right, watching less TV and spending more time outdoors. 
The study is in the journal Archives of Pediatrics and Adolescent Medicine. Dr. Perrin's work is supported by a career grant from the National Institutes of Health.