Factor4 & Kool Aid
Nutrition Information
Serving size:

10-16 oz

Calories:

70
Fat:

<1g

Carbohydrates:

1.2 g

Protein:

11.5g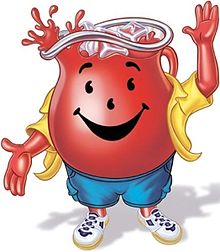 Kool "On The Go" Drink
Ingredients
1 envelope of unsweetened Kool Aid (flavor of your choice)
2 quarts of water for Kool Aid
10-16 oz Kool Aid
2-4 scoops of Factor4 Weight Control
ice as desired
Instructions
Fill a pitcher with 2 quarts of water
Stir in 1 envelope of unsweetened Kool Aid
(Yes – the Kool Aid our moms made up when we were kids – it is still
available in
Orange, Cherry, Grape, Fruit Punch, Lemonade and Pink Lemonade)
Do not add any sugar or sweetener
Refrigerate until cold
Shake it up and enjoy on that drive to work or taking your kids to school
Orange Kool Aid + Factor4 protein powder tastes just like an Orange Julius.
The other flavors are great too. This is a great "grab and drive the kids
to school" drink or that after dinner treat when you just want something
that tastes good and does not add a single calorie or gram of carbohydrates
to those in the Factor4 protein powder.