Factor4 with Greek Yogurt
Nutrition Information
Fat:

<1g

Carbohydrates:

1.2g

Protein:

10g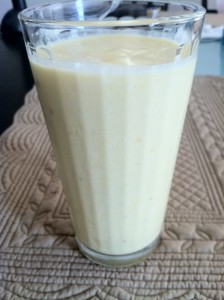 YOGURT SMOOTHIES: The bacterial cultures in low glycemic index yogurts provide unsaturated phospholipids and additional protein.
Ingredients
6 oz - Greek Yogurt
1 scoop - Factor4 Weight Control®
8 oz - Water
2 - Ice cubes
Instructions
• Greek Yogurt. 100 calories. Thin the yogurt with a little bit of water. Add one scoop of Factor4. Mix that in.
• Fantastic because you get the benefit of yogurt and the F4.
• The use of one scoop of F4 with the Fat-free 100 calorie Greek yogurt is a great idea for those getting started who wish to fill their bodies with the nutrients in F4 and skip 2 meals per day because it is very filling and you literally forget about food.
• Also a great way to save money.
Feel free to add fruit to this yummy smoothie as desired!
Notes
Greek Yogurt Marvelous • Fage Greek Yogurt 6 ounces 100 calories (cost $2) • Total fat 0% • Sat Fat 0% • Total carb 7 g • Trans fat 0 g • Cholesterol 0% 0mg • Sodium 65 mg = 3% DV • Carbs = 7 g – 2%DV • Sugars= 7g • Protein 18g = 35%DV • Calcium = 20% DV • L. Bulgaricus, S.Thermohilus, L. Acidophilus, Bifidua, L. Casel • While the product is called Fage, it is pronounced Fa-yeh. • Much tastier than plain Dannon yogurt. • Greek Yogurt. Plain. No flavor.