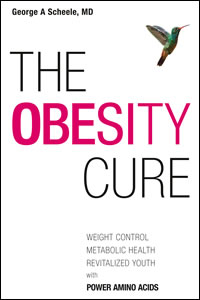 THE OBESITY CURE
At Last, a breakthrough in nutritional science that identifies the cause and solution to OBESITY, the #1 cause of metabolic disease…Dr. George Scheele's new book on Amazon.
http://www.atlasbooks.com/theobesitycure/
STANDARD PROTEIN (17%) EQUALS HIGH PROTEIN (35%)
DIETS IN WEIGHT LOSS
http://mobile.nutraingredients.com/Research/Standard-protein-diets-match-high-protein-diets-for-weight-loss-muscle-strength/?utm_source=newsletter_daily&utm_medium=email&utm_campaign=Newsletter%2BDaily&c=twkcJ%2BK3DzElzBnopetkKw%3D%3D
From Alex Schauss
12 week study out of Australia
Low fat diet, isocaloric diets trade protein for carbohydrate
Protein varied, 17% versus 35%
9% reduction in body weight in both groups
4% reduction in body fat in both groups (trend for greater fat loss at higher protein but no  statistical significance.
Health & Human Services Healthbeat